Uncle Dave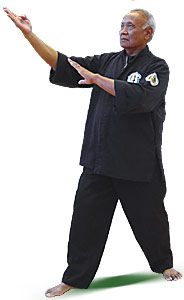 Raden Panji Setiosoeprapto, also known as Dave Nelson or for acquaintances Oom Dave, was born in 1932 in East Java in the town Asembagus. Oom Dave started at an early age with Pencak Silat. At the age of 6 his uncles taught him the family style Pamor as the tradition prescribes. Besides being taught the family style he and his brother Raden Panji Setiocipto also were taught the Badai style. Oom Dave also learned many other styles. Because Oom Dave is a descendent of an old Indonesian royal family he was according to the family tradition sent to a Buddhist monastery in Nakhon Pathon in the former Siam. In this monastery Oom Dave learned the Siamese fighting-methods, now known as Muay Thai (at that time not known as Muay Thai). Oom Dave also practiced boxing, sumo wrestling and kendo. After his stay in the monastery Oom Dave was appointed the heir of the family style Pamor by his uncle Raden Widikdo and Raden Panji Bentung in 1941.
Having lived in Papua Oom Dave finally moved to the Netherlands where he occasionally taught Pencak Silat starting in 1964.
In 1973 Oom Dave officially started teaching Pencak Silat in Diemen. In 1969 Oom Dave was appointed the title pendekar by the IPSI in Surabaya. In 1993 Oom Dave again was appointed the title pendekar by the Persilat (international Pencak Silat federation).
On July 4, 2020 Oom Dave transferred in a ceremony his position of kepala aliran and pendekar utama of Perguruan Pencak Silat Pamor Badai to his successors Marlon Tsie and Johann Ticoalu. The weekly training sessions at Pamor Badai are led by them.
Marlon
Johann